Director's Desk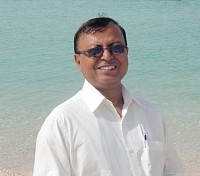 Dear Students, Parents and Staff,
As we start a new step in the education fraternity, I welcome you all to the New Era Public School!
We believe in nurturing a child right from the beginning, and this starts from the very first step a child takes into a class room.
Our commitment at New Era Public School is to provide a safe and intellectually challenging environment that will empower students to become innovative thinkers, creative problem solvers and inspired learners prepared to thrive in the twenty-first century.
High standards and expectations for each student in regard to academic performance, co-curricular participation and responsible citizenship are the foundation of our school. It will be our pride to maintain these high standards and ask each of our students to commit to maintaining the extraordinary record of achievement and contribution that will become the legacy of New Era Public School's students.
It will be the contribution of students,teachers and staff to our school community that will shape New Era Public School to an exceptional learning community.
Full participation in academic and co-curricular programmes and a willingness to act responsibly as an individual within our educational environment are the factors that we will bring into our curriculum and this will enable all to have a successful and enjoyable year.
In conclusion,
Education is a partnership between school, students, parents/guardians and the community.  Success is achieved when we all work together as a team to achieve educational goals. Communication is the key to a successful educational experience. So, if I can be of any assistance, please do not hesitate to contact me and know that my door is always open.
I wish you all a wonderful school year.
Sincerely,
DK Sinha
Our Faculty Our Strength
We have a team of highly motivated and skilled faculty members, lead by very well qualified Principal. We all work together like a family, where we support each other to bring out our best to guide children more efficiently. There is provision for teachers training program, to help them understand how to think according to the mind set of child, and guide them accordingly.